MAJOR NEW RELEASE!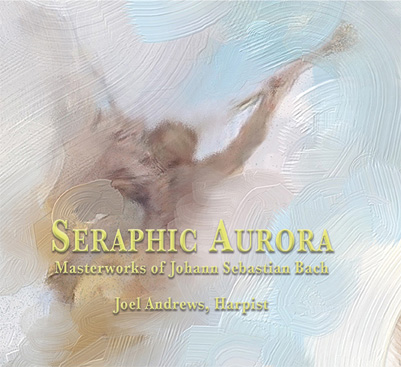 Seraphic Aurora
Masterworks of Johann Sebastian Bach
Joel Andrews, Harpist
"Masterful harpistry--a crowning achievement" Dear Friends and music lovers, we are thrilled to announce the long- awaited arrival of Joel Andrews exquisite new CD, "Seraphic Aurora". This is truly one of Bach's masterpieces. Mr. Andrews brings exquisite nuances and mastery to new heights, as Bach comes alive with his expression and brilliant interpretive subtlety. Included are the "Prelude No. 1 in C Major" -- "Prelude No. 8 in Eb minor" -- "Partita No. 2 in D Minor" (includes the celebrated "Chaconne") -- along with his sublime improvisation in the style of Bach, "Seraphs of Light" and "Aurora Borealis".
It is a divine expression of his finest musicality and gifts.
CD: $19.98 ORDER HERE

MP3 Album coming soon!
---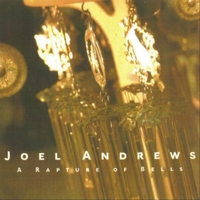 A Rapture of Bells
Joel Andrews, Harp and Bells
Schawkie Roth, Bells
The Magical Sounds of the bells of Carmel, to enchant and mesmerize you with their soothing and hypnotic melodies, dancing in the wind. It is like a sprinkling of fine gold dust inviting you to a festival of angels and archangels!
CD: $15.97 ORDER HERE

MP3 Album coming soon!
---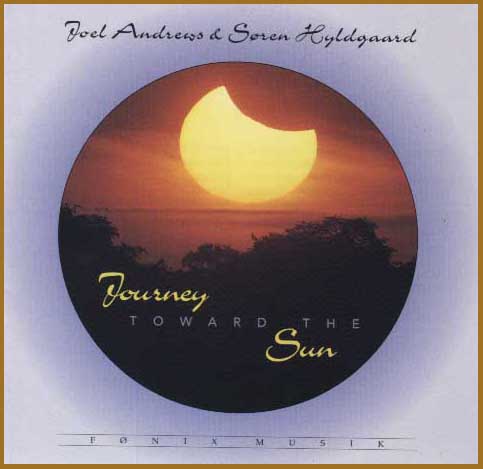 JOURNEY TOWARD THE SUN
Journey Toward the Sun - Joel Andrews' remarkable and heart-opening collaboration with the well-known Danish composer, Soren Hyldgaard. Harp and instrumental soloists, WITH ORCHESTRAL ACCOMPANIMENT.
An odyssey to the East including musical styles indigenous to the American Prairie, Europe and Asia.
CD: $19.98 Cassette: $5 ORDER HERE
MP3 and Online Streaming Available Now!
"This remarkable, superbly recorded album will flood you with scintillating harp crescendos, winds of passionate melodies, and intoxicating symphonic orchestrations." ~ Fonix Music
---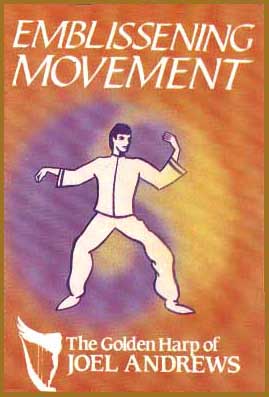 EMBLISSENING MOVEMENT
Music for T'ai Chi. "Masters Choice." Exotic harp, with dulcimer and bells.
SIDE I - Emblissening Movement - Provides smooth accompaniment for dance /movement /especially T'ai Chi and Yoga, or for creating a background ambience.
SIDE II - Blissful Gamelan - Harp, bells and dulcimer. Creates a pleasant, exotic ambience in the context of Asian, pentatonic scales. Excellent for T'ai Chi and Dance -- "a sustained, exotic sound environment."
CD: $15.98 Cassette: $5 &nbsp ORDER HERE
---
Upcoming Releases:
The Splendor of Light Series!
MP3s now available!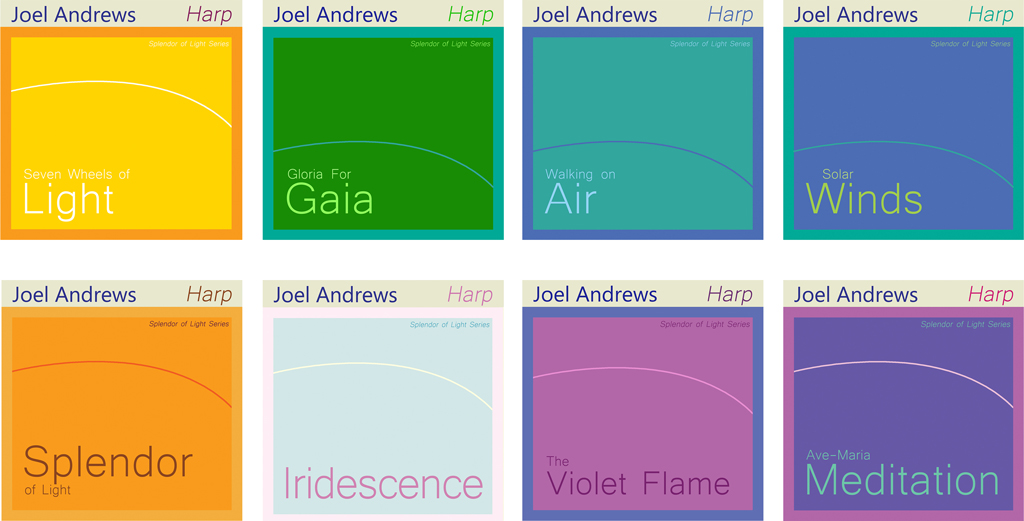 ---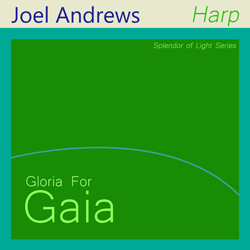 GLORIA for GAIA
Joel Andrews is a dedicated pioneer music healer. Here he has co-created, with his Sources, healing music for our beautiful planet and the life forms upon it. Whenever this unique music is played, it emanates resonances of cleansing, transmutation of negativity, and harmony to effect the surrounding environment. The Higher Beings who gave us this majestic and gloriously positive music have promised to carry it out into the world wherever it's needed, but they honor our free will and wait until we choose to take part in the grand plan of ascension of our world. So not only will this unique music cleanse, harmonize, and uplift the ambience of your home, but will be carried in ripples out across the countryside far and wide..
CD: $15.98 ORDER HERE

---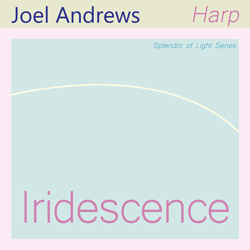 IRIDESCENCE
Iridescence I - Richly radiant harmonies bring release and expansion of creativity. Promotes centering and balancing and opens up your creative flow.
Iridescence II - Music of exquisite beauty; deeply contemplative. Profound Peace and Divine Love.
CD: $19.98 ORDER HERE

---
WALKING ON AIR
Walking On Air - Experience a lightness of being. These exquisite solo harp improvisations give you a sense of fulfillment, stillness and new-found freedom.
Joel Andrews' harp is a messenger of peace, harmony and joy. You are left with the sensation of "Walking On Air."

Cassette $5
ORDER HERE
---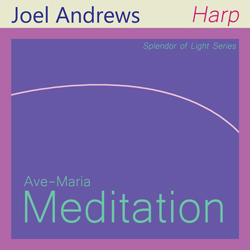 AVE MARIA MEDITATION
Ave Maria - (JS Bach) with harpist Joel Andrews has to be one of the most moving pieces of music ever composed. Played by a master harpist like Joel Andrews, it's a listening experience beyond description.

Meditation - offers healing on all levels of your being. The music evokes a purity and radiance that raises one's energy and vibrations to the Celestial realms of supernal light, bringing harmony, healing, balance, and inner peace to your Chakras.
CD: $15.97 ORDER HERE

MP3: $8.98 - WAV: $11.98 PURCHASE HERE

---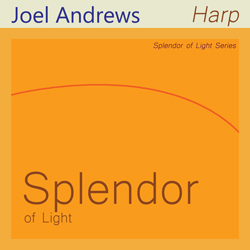 SPLENDOR OF LIGHT
Splendor of Light - Glorious, full of triumphant waves of Love, Light and Power. An invocation of the CROWN CHAKRA.
Coalescence - Tranquil. Sets the tone for ideal relationships, balancing your Active and Receptive aspects. Promotes healing for your SOLAR PLEXUS CHAKRA.

Cassette $5
ORDER HERE
---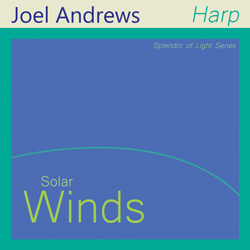 SOLAR WINDS
These soothing sounds of the Solar Winds will lull you into a peaceful sleep, with hypnotic melodies that take you into the dream time toward cosmic spaces of endless possibilities and blissful rest.

When the Solar Winds of the Gods blow, let the stories begin.

May the positive feelings of protection and well-being from this music, let you dream with the stars.



Cassette $5
ORDER HERE
---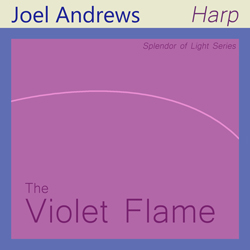 THE VIOLET FLAME
The Violet Flame - Inspires healing and release of negative patterns. It has an elegant, relaxed ambiance, Classical and Cosmic in scope, bringing harmony on all levels of being. Helping you transmute and heal past patterns through the Law of Grace.
Violet Joy - Helps you move through your daily activities, sanctifying them! When through the magnetic power of the heart center, you make conscious attunement to The Violet Flame and Violet Joy this awareness evokes the indwelling Divine Consciousness which can then manifest more fully in the outer personality-Self-preservation and devotion to personal needs as primary motivators give way to sensitivity to the needs of humanity and dedication to world service. The work of transmutation can raise the vibration of Earth and bring into reality the highest vision of The Golden Age. We have been assured that The Violet Flame is available at all times to be invoked at every stage of the process, and this music, so rich in the vibration of The Violet Flame, is an invaluable aid.
CD: $15.97 ORDER HERE

MP3: $8.98 - WAV: $11.98 PURCHASE HERE

---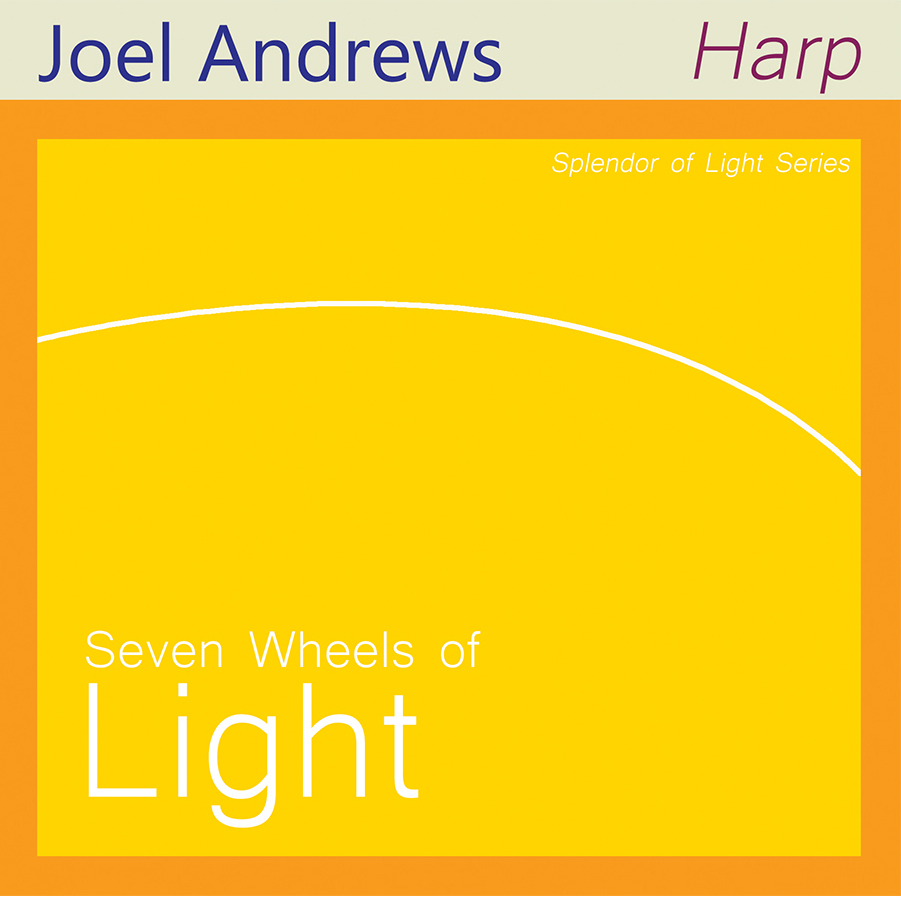 THE SEVEN WHEELS OF LIGHT
Cosmic in scope, brings healing on all levels of being. These subtle, bioelectric vorticies or radiant centers along your spine control the major aspects of your being. This music safely and gently purifies, stimulates and balances each chakra with the rest. It also brings healing to that area of the body through the endocrine glands. Many miracles have been reported from listening to this music.


1a) Introduction

1b) Root Chakra #1 (Life Force) - (Red)

2) The Sacral Chakra #2 (Energy for Creativity) - (Orange)

3) The Solar Plexus Chakra #3 (Harmonizing Polarities) - (Yellow)

4) The Heart/Thymus Chakra #4 (Love) – (Green)

5) The Throat/Thyroid Chakra #5 (Manifest the Higher Will) – (Blue)

6) The Third Eye/Pineal Chakra #6 (Intuition) – (Indigo)

7) The Crown/Pituitary Chakra #7 (Light of the Divine)–(Violet or Magenta)


---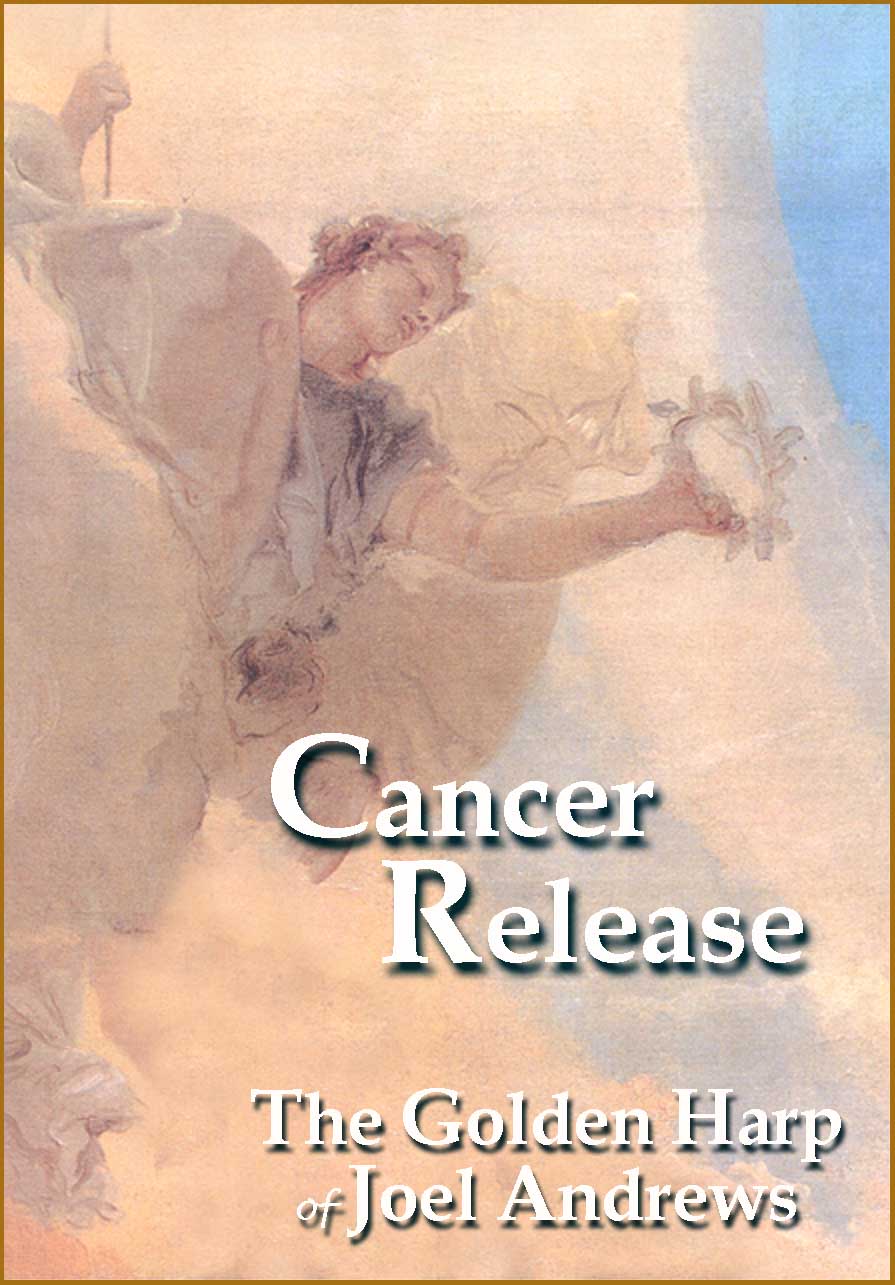 CANCER RELEASE
Cancer Release - Created for Sue Monroe, top Canadian Music Therapist, for use in the Cancer Clinic in Montreal. Used in the Bristol Clinic in England and other holistic therapy centers across the country. An alternative therapy support which works on subliminal levels to suggest reprogramming causative patterns, especially opening the willingness to love and be loved.
Not currently available.

---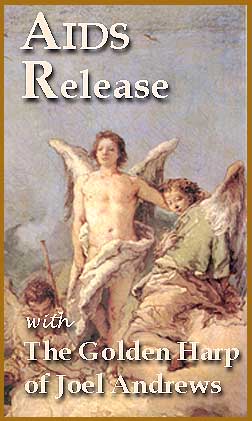 AIDS RELEASE
AIDS Release - Mr. Andrews' therapyhelps to free the patient from fear and anxiety and creates a positive mood to help in affirmative visualizations. Also helps to release underlying negative programming.
Cassette: $5 ORDER HERE
---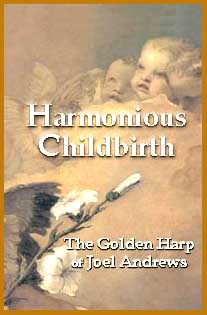 HARMONIOUS CHILDBIRTH
Harmonious Childbirth - SIDE I - Creates an atmosphere of peace, love, and harmony for the birth process itself. Very effective and not to be played until the contractions are five minutes apart.
SIDE II - Promotes BONDING between mother and child. Can be played before and after birth
Not currently available.
---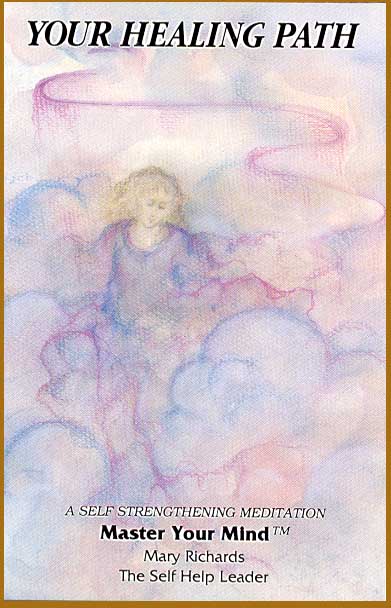 YOUR HEALING PATH
SIDE I - Your Healing Path - Beautiful angelic music by Joel Andrews with guided meditation by Mary Richards from her acclaimed "Master Your Mind" series.
SIDE II - Features the same music with subliminals. You are guided to a mystical place of healing where all wisdom and renewing energies reside.
Currently not available.
---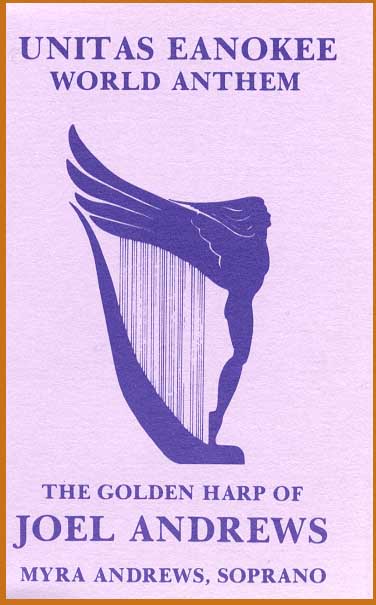 UNITAS EANOKEE
WORLD ANTHEM
Mr. Andrews worked closely with higher forces for many years to create a song to bring together the peoples of our planet in universal love, cooperation, and peace. Powerful, beautiful, and inspiring! A printed vocal sheet is included. Also arranged for choir.
Currently not available.
---
Wheels of Fire - The Seven Chakras Series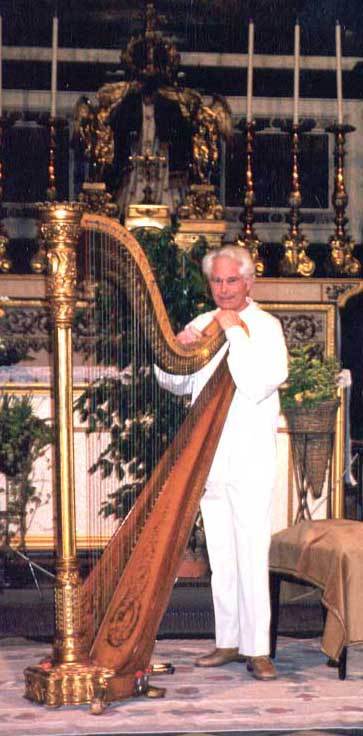 Mr. Andrews playing at St. Carolus Boromeurskerk Rubens' Chapel, Antwerp, Belgium
These subtle, bioelectric vortexes along your spine control the major levels of your being.
Mr. Andrews has recently completed one side of a cassette for each of these radiant centers. The music is proven to be safe for anyone to use and gently purifies, stimulates and balances each chakra with the rest. Also brings healing to that general area of the body through the endocrine glands. There have been many miracles with these tapes.
---
LIFE FORCE
SIDE I - Root Chakra - (I - Red) Basic physical energy source. Heals issues concerning survival, food, and money.
SIDE II - Accomplishment (Thyroid Chakra) (V - Blue) Helps you integrate thinking, will, and the voice. Opens you to your higher mind and the Will of God.
Currently not available.
---
HARMONY
SIDE I - Harmony - Solar Plexus Chakra (III - Yellow) Balances opposites in the areas of thought and emotions; male/female, assertiveness/receptivity, etc.
SIDE II - Universal Oneness (Crown Chakra) (VII - Rose-white) Your superconsciousness. Helps you connect with supreme intelligence and being (God) to keep all your levels on the track toward full self-realization. (NOTE: This cassette and CD contains the same music as "Splendor of Light".)
Currently not available.
---
CREATIVITY
SIDE I - Spleen Chakra (II - Orange) Shaping of your basic energy. Supports healing in sexuality and artistic expression.
SIDE II - Intuition (Pineal Chakra - VI - Deep Violet) Helps you transcend the mind to direct seeing and knowing. Frees inspiration, helps if you are too open to "other realities and voices."
Currently not available.
---
UNCONDITIONAL LOVE
SIDE I - Unconditional Love (Heart Chakra) (IV - Green) Helps you integrate the lower centers with the upper. Helps resolve all conflicts through the higher insight universal love brings.
SIDE II - Reflections in Gold - A meditation which awakens, harmonizes, and attunes you to your deeper self.
Currently not available.